Heart Tones (HTIC, LLC) is committed to delivering the educational resources, services and tools that can enhance and improve communication between providers and patients of diverse backgrounds. Our genuine commitment is to offer relevant and effective consultation, services and products that help those who are helping others experience, acquire and maintain the quality of life they desire.
Heart Tones is 501(c)(3) nonprofit organization. Gifts and purchases are tax deductible as allowed by law. Our Tax ID is 38-3943305.
The vision of Heart Tones is to offer people inspiration and encouragement in every season of life common to humanity.
To encourage, inspire and give hope to the world through the authentic writings and creative works of Gloria Thomas Anderson by providing purposeful, high-quality products and services that Inspire Hearts and Encourage Souls!
H=Healing E=Edifying A=Affirming R=Restoring T=Transforming
The Heart Tones™ Story: A Historical Journey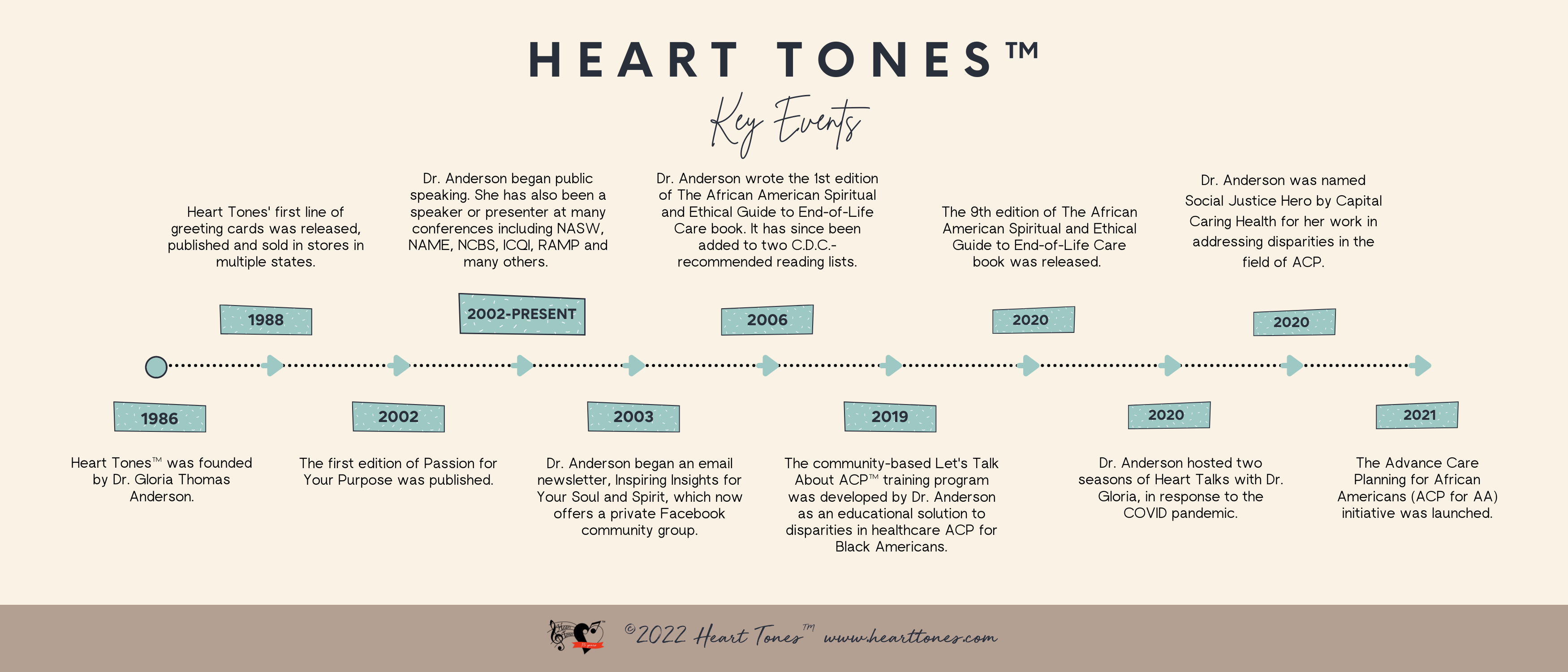 Heart Tones™ began in 1986 with a personal, spiritual call to Gloria Thomas Anderson. Her first poem, "Trust and Be Still" was published by David C. Cook in Chicago, IL. She then created Heart Tones™ as the parent name to produce all of her authentic and diverse inspirational products and services under one umbrella.
Heart Tones™ started in 1986 with the successful launch of her first greeting card series, photographic poetic prints and personalized special occasion gifts (wedding, memorials and encouragement). Much of her writings soon became frame-able prints that inspire and encourage people's hearts in real life situations. Many of her writings have touched hearts around the world, when bookstores and galleries across the country gave display to her unique inspirational works.
This national market reach resulted in deepening her commitment to serve as a channel of encouragement for others to become "Heart Toners"—building a strong caring community of people who care about caring about others.
Writing from the heart has always been Gloria's love and passion! While creating her very first inspirational greeting card line, she thought about what to name the series and a musical note with a heart appeared in her mind.
Heart Tones™…Tones of the Heart…Melodies of life…Expressions in words of inspiration and encouragement.
That's how Heart Tones™ came to be in 1986!
Over the years, Heart Tones™ has evolved into a company that offers Gloria's authentic writings as inspirational books, educational resources and multiple gift items exclusively created through Heart Tones™ Publishing.
Sharing the message of hope, peace and purpose through her writings, work and life are the pillars of Heart Tones™. Whether it is in products created, presentations given or workshops facilitated, the Heart Tones' mission will always remain the same—to inspire hearts and encourage souls!
Heart Tones™ continues to be a source of inspiration and encouragement to people in every season of life common to humanity. May it be a source of inspiration and encouragement to you!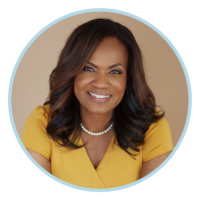 About Gloria Thomas Anderson, PhD, LMSW
Author • Inspirational Speaker • Educator
Gloria Thomas Anderson is the founder and President of Heart Tones™, a ministry that provides customized, educational workshops and resources related to healthcare decision-making, end-of-life, and cultural competency. Considered a subject-matter expert in diversity, Dr. Anderson's natural warmth of authenticity helps inspire culturally different populations to be their best "selves". She holds an earned PhD in education and has done extensive research on multiculturalism and diversity and its connection to the "self". To learn more about Dr. Gloria, please visit her website. »

Heart Tones™ Projects and Initiatives
Heart Tones™ started in 1986 and over the years has evolved into the source of many other projects and initiatives. Even though the goals of each project may be different, they all share the same mission of providing of hope, peace, and purpose.
The following are the current Heart Tones™ programs and initiatives:
End-of-Life Care Guide
The African-American Spiritual and Ethical Guide to End-of-Life Care can help families talk about and make a plan in advance so that your doctors and one's family can know what an aging family member would want in a medical emergency situation. The Guide offers trusted and relevant information, complete with helpful resources and free access links to advance care forms by State. Dr. Gloria wrote the first edition of The African-American Spiritual and Ethical Guide to End-of-Life Care in 2006 after receiving a grant to produce her research findings into a patient education resource to offer relevant information about end of life care specifically for African Americans. The Guide is a CDC-recommended advance care planning resource book. It walks readers through the practical and legal considerations in advance care planning and provides an inviting way to talk about what one's wishes would be if they were unable to speak for themselves due to a life-threatening accident or illness.
Learn more about the EOL Care Guide. »
Advance Care Planning for African Americans (ACP for AA™)
ACP for AA™ is a nationwide educational outreach initiative partnering with organizations to help bridge the racial disparity gap in healthcare delivery by:
1) providing credible and culturally relevant healthcare-related information and resources,
2) promoting conversational engagement about advance care planning options and preferences, and
3) preparing the necessary steps to complete advance care documents and choose a healthcare advocate, if unable to speak for oneself.
Learn more about ACP for AA™. »
Workshops and Seminars
Dr. Gloria offers professional and personal development courses on the following topics:
A Community Dialogue: The Impact of COVID-19 on African Americans the Importance of Exploring Goals of Care
Let's Talk About ACP: Advance Care Planning & Healthcare Decision-making on End-of-Life Care
Grief, Loss, & G.R.A.C.E.: Five (5) Healing Steps for the Grieving Heart
Passion For Your Purpose: Seven (7) Principles to Know to Discover and Uncover Your God-given Purpose
To learn more about Dr. Gloria's workshops and seminars and book her to speak at your event, please visit her website at gloriathomasanderson.com.
Connect with Heart Tones!
Inspiring Insights – Join our Heart Tones community and become an "Inspiring Insighter" by subscribing below. We welcome you and look forward to inspiring and encouraging your soul and spirit!
See What 'Inspiring Insighters' Are Saying
Inspiring Insights For Your Soul & Spirit is a joy to read! After reading it, it leaves you uplifted and motivated. Gloria, the author, encourages you and gives you meaningful ways to get through life's challenges.
Years have passed and I still subscribe to your wonderful and insightful newsletter. I first heard you speak when our pastor, Rev. Konnie G. Robinson of Union Chapel Baptist Church, invited you to our church to speak. I was inspired then and I am still inspired now! I always look forward to your newsletter and your inspired messages. Keep up the great work.